8 exciting kids promo gifts to stir-up holiday promotions
Yet again we are near a holiday season. Christmas and New Year are just few weeks away. It is the right time to stir up your promotions and gain attention of people and grab good Holiday season sales. Both kids and adults will be in a joyous mood and it will be easy to get their attraction if you are customizing your promotions according to the season. We are presenting a bunch of promotional products which are really worth trying out for motivating your promotional campaigns targeting kids in the holiday season. Each of the products has different features and specifications and so it is important to choose them wisely.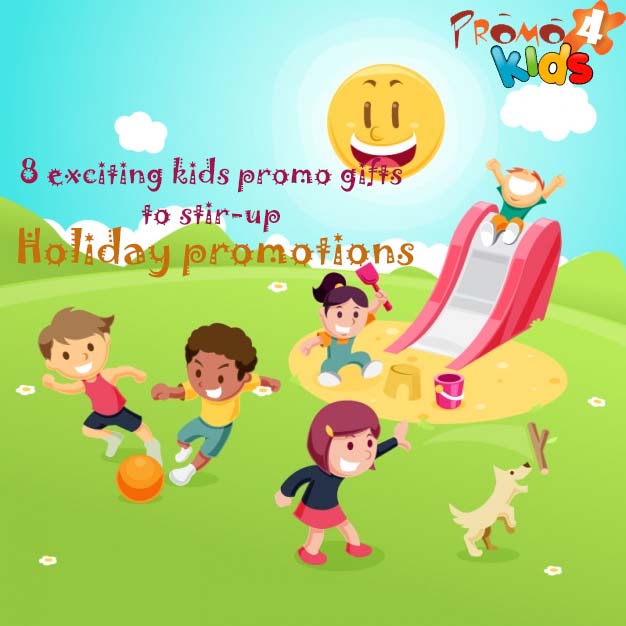 Coloring books
Being one of the most loved kids' accessories, customized coloring books are a great promotional item to display your brand logo in front of the kids throughout the holidays. Above all, parents will be thankful to your brand for giving their kids valuable gifts.
Crayons
Another excellent promotional item kids will appreciate for sure. All you need is to keep an eye on the available options in this category and pick the right one which can connect with your little audience exceptionally. Schools, kindergartens and toys brand can make use of these products for promotions.
Highlighters
Crafts and drawings are 2 of the most common activities kids get engaged in their leisure hours. Custom highlighters can offer you a great imprint space where your brand logo can keep appearing in front of the children and parents consistently.
Sunglasses
Holidays means a lot of outdoor activities and what's the fun without sunglasses! Parents will be grateful to your brand for saving their money to buy their kid an eyewear. Pick the right kind of custom sunglasses that will create the ideal brand image for your brand. Above all these sunglasses will be a brilliant protection for the little eyes from the sun.
Beach Balls
Will a promotional activity in the beach be complete without beach balls? No will be the answer from the kids for sure. For them beach parties and events are occasions to have fun with these balls. Get these custom beach balls right away and get them imprinted with your brand logo and tagline to get the attention of everyone in the beach. The advantage with these balls is that they will grab the attention of the adults too and thus, they are a good choice for brands that are targeting adults through the kids.
Frisbees
Want to surprise the kids with gifts in-between an event? Custom Frisbees will be the product you will want to explore right away. No matter whether it is in a park, play ground, school or beach, these custom products for kids will create an amazing background for sure. This is your chance to impress the parents by making kids happy and engaged.
Water guns
Kids love to play with the water and with our custom water guns you can make their play time super fun. As our products are all CPSIA compliant, you can ensure a safe promotion that will make your brand earn the trust of the parents quickly. Though these products are ideal for the promotions in the hot season, kids will love to play with these water toys whenever they are in a holiday mood.
Binoculars
This is one of the specialized holiday toys that kids will enjoy a lot. Custom binoculars are great for the promotions of tour operators and trekking & adventure tour services. These are products that can easily create a lot of excitement among the kids. As the holidays are near, customizing them with your brand logo will help for sure.
Explore our website to discover lot more promotional items that can help you to make your promotions interesting. Let us know your experiences in using these products in campaigns, so that we shall come up with more amazing products and promotional ideas which will be useful for everyone out there who are looking forward to do a fantastic brand promotion.
Share and Enjoy