Quick Guide: Picking Puzzles for Kids Promotions
The ability to apply knowledge and skills cannot be earned theoretically. It should be gained through practice and experiences, start nurturing it from the early ages and children will be geniuses when they grow up. We give toys to our kids to make them happy but there are toys which can improve their physical as well as cognitive skills. We are presenting one such product from our collection of promotional items for kids, Puzzles! These are familiar to everyone as they are fun as well as very interesting to solve.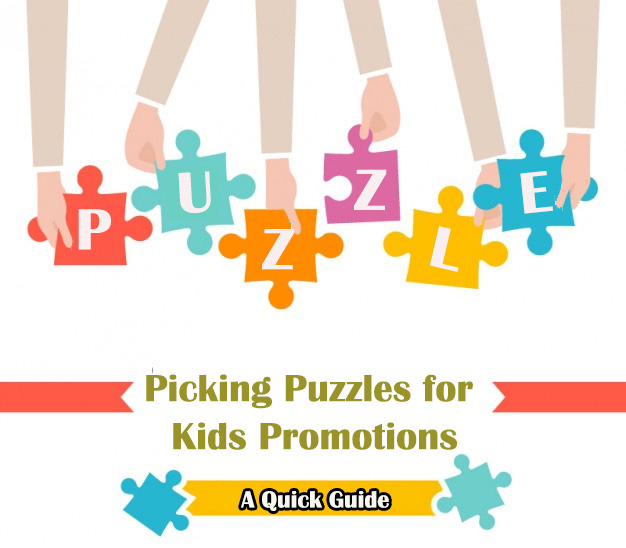 Being a business trying to promote your services and products among kids and their caretakers, you need to know about these custom products and how they can be completely exploited for best results. As you might know, puzzles are of different kinds based on the difficulty level, size, shape and many more aspects. When it is about picking the best for kids' promotions, you just need to make a good understanding about the products before taking out for a full-on promotion. The following information will lessen your difficulty level in making a decision.
Know the benefits
Puzzles can play a good role in the overall growth of the kids. Starting from simple puzzles to slowly moving towards the complex ones, you will find puzzles suitable for all age groups. You can expect the kid to do a lot of thinking and problem solving exercises when handing out a puzzle. It is better to leave the kid along with these products as it will also help to create good confidence in them. They will be tested both emotionally as well as physically as they will be keep on trying different possibilities until the pieces fits to the correct location finally.
Another great benefit or lesson they learn from these custom products for kids is the patience. The satisfaction they achieve at the end of solving each puzzle gives them the willpower to aim for bigger goals in the future. The sessions with the puzzle boards give them new lessons about discipline. They will become more matured in taking decisions and facing problems. Another message that they learn solving these puzzles is that "Where there's a will there's a way".
Consider difficulty levels
As you might know, choosing the right difficulty levels according to the age group is very important. There are certain factors that determines the difficulty of each custom puzzles.
The size and number of pieces included in each puzzle
How experienced is the kid in solving jigsaw puzzles
The finishing and quality of the materials used for the making
The amount of detailing in each picture and also color variations that lead their predictions
Analyze these factors to decide which of them are suitable for your promotions and how it will aid in building a better brand image among your users, especially the kids. By taking the right decisions of difficulty level, you can easily impress the users and make them excited to try more puzzles.
Go for variety
We have presented a wide variety of puzzles in our store including the brain teaser puzzle, cube puzzle and foam puzzle. Each of them has their own specific features that can further attract users. Learning the features of each of them will give you more insight about how it can benefit your promotions. These puzzles are great for distributing in tradeshows, fairs and also exhibitions.
Get feedback
Another efficient way to improve your promotions using these custom puzzles is to get feedback from the parents or teachers about how kids are performing with these puzzles. Their comments can bring some very effective changes to the way your promotions generate results. Schools and training centers are also great venues to do promotions using these products.
Find more products from our store and make your promotions more powerful and engaging. Share your thoughts and experiences with the promotions so that we can improve our product list and services accordingly.
Share and Enjoy