Custom Notebooks for Kids to Start 2017 impeccably
It's a New Year ahead and you might have already started working on your New Year Resolutions to bring a good change to your life as well as business. We will help you to achieve something very amusing in business this year. You need the best promo items to achieve a brilliant start to the New Year. Well, we have made a plan for you to keep things intact this year. The trick is to go with the finest promotional items and start with a safe and strong promotion. Custom notebooks are a wonderful option to achieve that aim. We will light you the path to the finest promo-notebooks and thus you will never face failure with these promo items.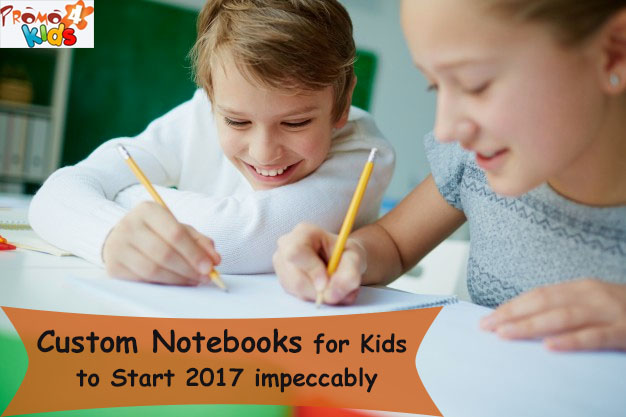 Why are these the finest?
Everyone have a definition for the best, what's your definition? Quality, looks and needs of the people are factors that come to our minds when thinking about a best solution. For us the finest solution is something that satisfies the customer 100%. Above all, they should be delivering great results right from the beginning to the end. We follow this strategy in presenting our promotional gifts for kids. According to these factors we have chosen the finest promo notebooks that will give your promotions a new life. Check out the following options and give your brand promotions a new dimension.
Promotional Memo Notebook with Sticky Notes & Pen
Promotional Memo Notebook with Sticky Notes & Pen is a standard memo notebook which will easily become full-time companion of students. Sticky notes and pen are extra features that children will find interesting. This will help the adults to nurture some good habits in kids such as making notes, using sticky notes as well drawing. The more time they spend with these products, the better results these products will bring to your promotions. Available in a list of frosted colors and in solid white color, there is no doubt that these promotional items will win you more genuine customers.
Custom Eco – Friendly Spiral Jotter & Pen
Be ready to do a futuristic promotion with this Custom Eco – Friendly Spiral Jotter & Pen. Eco-friendly products have a huge demand and acceptability among people than before. The pen included in these promo gifts consists of wooden clip and a recycled paper barrel. Giveaway these custom products available in a big list of color options in tradeshow, exhibitions and also events at schools.
Customized Small Spiral Notebook with Sticky Notes and Flags
Kids get attracted to notebooks that are coming loaded with extraordinary features. A matching color pen, sticky notes & flags makes these small spiral notebooks with sticky notes and flags exceptional. The sticky notes and flags are made available in different sizes and colors. A mix of natural and other vibrant colors gives these notebooks a stunning look.
Personalized Spiral Notebooks with Pouch
Distribute this Spiral Notebooks with Pouch to children during school events or workshops. The clear pouch which a plastic zippered closure is the main highlight of these notebooks. They are fantastic as complimentary gifts at anniversaries or other celebrations.
Promotional Spiral Notebook with ID Window
Another perfect notebook you can choose to give away at any kids' event. As there is an ID window, parents can keep their kids name in those spaces. Matching color pen and elastic loop to hold the pen are other great features.
All products in our online store are CPSIA compliant and thus you can assure a safe promotion. Share your promotion experiences with us and thus we can come up with more exciting solutions.
Share and Enjoy