Glow in the Dark Sunglasses Are the New Showstoppers
Get ready for an amazing promotion with our Glow in the Dark Sunglasses! Kids will love to show off these sunglasses at the night. Well let's give the little ones the opportunity to have fun in the dark too. These custom sunglasses for kids are specially designed to give the kids a very interesting experience. Unlike the adults, kids actually do not need any special reason to try out this glow in the dark custom products. If there is no party, they will be happy to try these glasses in the park, at home or in any sports venue. All you need is to give away this glow in the dark products to them and receive good comments about your promotions.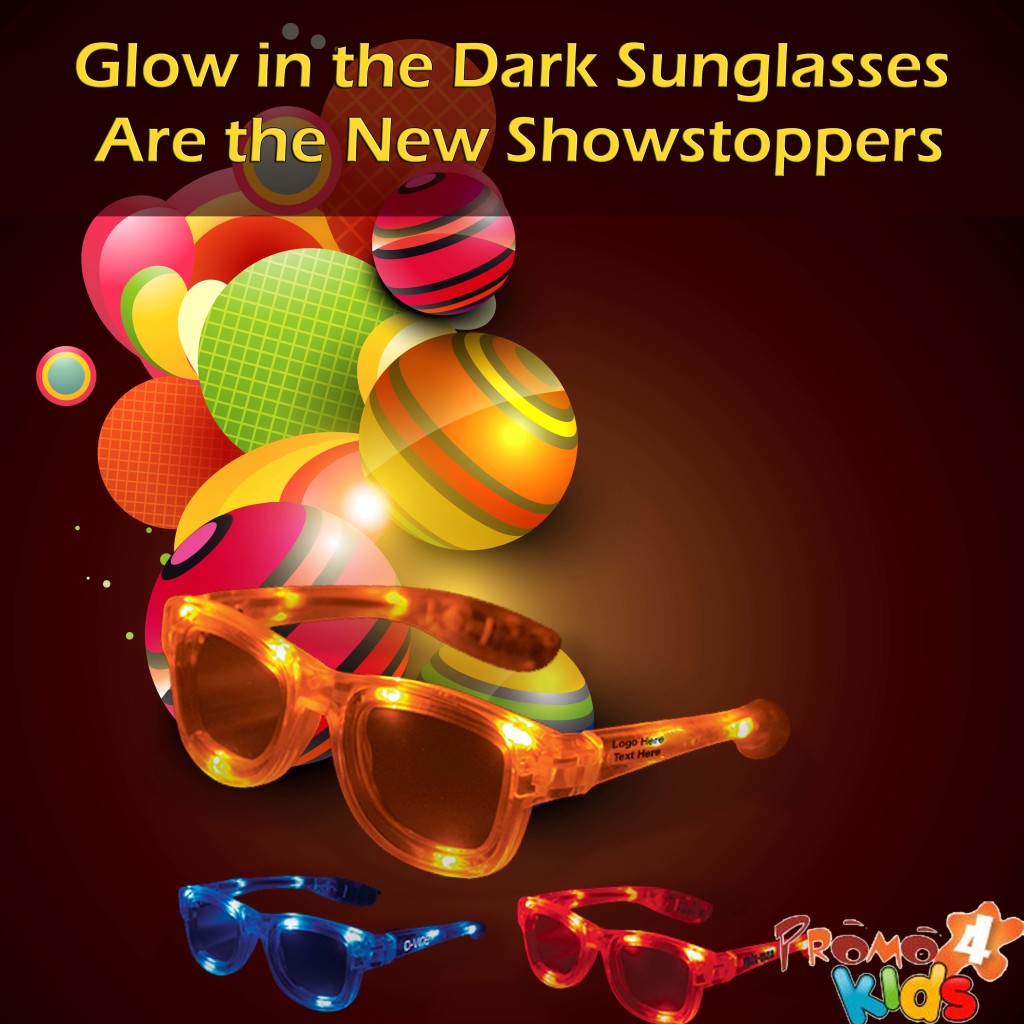 The best way to get started is by organizing a night party, celebration or event for the kids and handover these promotional products to the little ones. Plan games or activities that utilize the glowing ability of these promo items! Let's discuss more about the unmatched qualities of these sunglasses.
Uncompromised Style
Made up of plastic, these sunglasses are made available in White colors. They are having a standard design that never compromise on the style. It also makes these products suitable for the use in day time and also while travelling. Parents will also like these promotional gifts as they make the kids look smart and stylish.
Special Occasions Made Extraordinary
Not just parties, but school dance, sports events, concerts and other activities are also great occasions for the kids to make the most of these sunglasses. All you need is to keep these sunglasses in the direct sunlight and charge them before using at night, for best results. Apart from that the kids can also use them in parks and beaches at night to ensure good visibility.
Safe and Feature-Rich
Along with the standard looks and super glowing capability, these sunglasses are also coming with good features to ensure safety. Clear lenses make sure that they deliver best viewing experience both in day and night, whereas the UV400 feature delivers great protection from the harmful rays from the sun in the day.
Brand Exposure Even In the Dark
The 1 1/2″ x 1/4″ imprint space in the right and left arms of these sunglasses make sure that your band logo or name imprinted will get the best exposure. Ultimately, promoting your brand will be the main aim and with ample imprint space these sunglasses will guarantee that too. Now darkness will not stop you from promoting your brand. Find the right occasion/place to handover these promo items to the kids and give your brand a cool promotion.
Promotional logo light-up Iconic sunglasses and color changing Iconic sunglasses are also cool choices if you are looking forward to similar promotional items.
Share and Enjoy