Make a Comeback with the Expressive Happy Face Yo Yo Balls
After experimenting a lot with promotional items for kids, we have come to a conclusion that kids always likes those items that makes them happy. Unlike adults kids are giving priority to things that are giving them reasons to enjoy, laugh out loud and get excited. Living up to the expectations of your little patrons are the best thing your brand/business can do to maintain an impressive brand image. Happy Face Yo Yo balls are one of a kind when it comes to creating a cool image for a kids brand. Lively, fun and energetic brand images are what work best in favor of businesses when it comes to getting attention of both kids and the adults surrounding them, especially parents.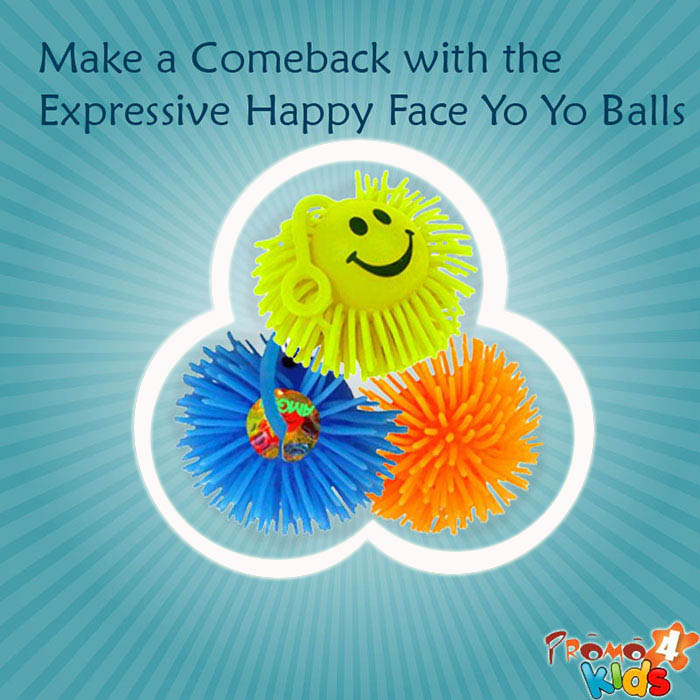 Yo Yo Balls are ideal for creating an energetic brand image but ensuring that it is matching with your business is essential. There are few things that a promotional products says about the brand logo imprinted on them. As the characteristics, appearance and behavior of these promo gifts are having a big role in setting up your brand image, understanding them well will be helpful. Let's see what these Promotional Logo Happy Face Yo Yo Balls is saying about your brand, once you imprint the logo and handover it to children.
Fun
First of all let us tell you that these happy face balls are a perfect blend of a soft stress relievers and a light-up Yo-Yo. You will have tried various promotional items combinations such as an eraser and pencil, bag and coloring books etc but this one is really cool because it has the fun characteristics of two other interesting promotional items for kids. The result is that you will be able to get a completely fun brand image.
Flexible
They are made up of rubber and are also presenting a hole to lock your finger into them for good control. The rubber making let these products stretches out well, yet stay in control. No worries whether the kids are playing them in indoors or taking them to outdoors, it will stay safe in their hands. The flexibility of these products will surely help your brand build a reliable image too.
Pleasant
No doubt that the happy face of these Yo Yo balls will be one of the first things everyone will notice and it works as a good stress reliever too. Being a very pleasant promotional item, it will become favorites of both kids as well as adults quickly. A happy face can spread positive energy with ease and these happy face balls do just that. Undoubtedly your brand will get a pleasant impression quickly.
Exciting
Last but not the least these balls light up to excite the viewers in parties, celebrations and play dates. There is a sensor placed inside these balls which will light up the product when it is triggered. The lighting effect will be a great surprise to most of the kids as these looks like a crazy ball at the first sight which just jump around with their loose hair around. Nothing else will be as exciting as these jumping and light-up Yo Yo balls.
Best solutions to break away boredom
All these qualities jointly create a cool brand image that will be suitable for products or services that are best to break-free from boredom. Toys stores, sports accessories stores and play centers can be promoted using these custom kids' products creating the perfect brand image for them. Take a look at our store to find out what else we have listed to let you create the best brand image.
Share and Enjoy